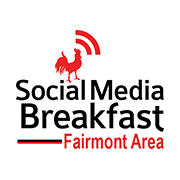 Social Media Breakfast is held monthly. The next one is March 28th from 9 to 10 am at Southern Minnesota Educational Campus, 115 S. Park St., in Fairmont. CLICK HERE to register.
Thank you MRCI Worksource – sponsor for the February session!
During this session (Donation Requested: $10), a case study will be presented by Liz Wheeler on the social media strategies of local business "Bowlmor Lanes & Lounge."
Liz now is a freelance writer and social media content provider for small businesses in Fairmont, including Bowlmor Lanes and Lounge which has a presence on Facebook and Twitter and is babystepping into the realm of Instagram.
Liz has been a project manager for the creation of a search-engine optimized website as part of a Twin Cities consulting firm's marketing strategy. She also was the firm's chief content creator for both social media and print. In these roles, she attended trainings and strategy sessions through Google and Findability that gave her solid leads on tying social media posts to increased website findability which in turn increased sales.
Marketing is changing and it is more important than ever to embrace the tools that are available for businesses. Are you leaving money on the table by not embracing social media?
Social Media Breakfast – Fairmont Area is made possible in part by a technology grant from the Blandin Foundation.
| | | | |
| --- | --- | --- | --- |
| Date | Topic | Speaker | Sponsor |
| 28-Mar | Case Study (Bowlmor Lanes & Lounge) | Liz Wheeler | TBD |
| 25-Apr | TBD | TBD | TBD |
| 23-May | TBD | TBD | TBD |
| 27-Jun | TBD | TBD | TBD |
| 25-Jul | TBD | TBD | TBD |