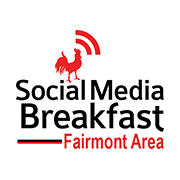 Social Media Breakfast is held monthly. The next session will be held on October 24th from 9 to 10 am at Southern Minnesota Educational Campus, 115 S. Park St., in Fairmont.
---
---
During this session (Donation Requested: $10), instructor Liz Wheeler will facilitate a session covering the benefits of small business cross-promotion using social media. Businesses and organizations will be given the opportunity to share their upcoming events and promotions to establish collaborative efforts for mutual benefit, just in time for the upcoming holiday season.
---

Liz Wheeler is a freelance writer and social media content provider for small businesses. She has trained with Google and Findability for social media efficacy and search engine marketing (SEM).
Marketing is changing and it is more important than ever to embrace the tools that are available for businesses. Are you leaving money on the table by not embracing social media?
---
Social Media Breakfast – Fairmont Area is made possible in part by a technology grant from the Blandin Foundation.