BE A PART OF A POSITIVE FAIRMONT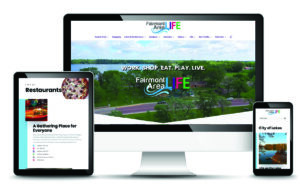 Open House: January 12, 2022 4:30-6:00PM at Southern Minnesota Educational Campus
A new initiative is taking place in Fairmont to promote the positive and all the things our area has to offer. This effort is a collaboration of a variety of community stakeholders and we want you to be a part of this!
We are better when we work together and promote together. The re-imagined Fairmont Area Life will be a one-stop-shop for all things Fairmont. Showcasing through photos and guest articles what it's like to work, shop, eat, play and live in the Fairmont area. This is a visual resource with top-level information that can then direct locals, visitors, or those looking to relocate to the correct website or information source for deeper info.
HOW YOU CAN HELP
Our goal is in addition to the website we'll revive the Fairmont Area Life Facebook page. We want to use this to showcase all the great things happening in our area.
• Send us photos of your business, non-profit, community events, etc. We want to create a partner network and have a place to promote everything together.
• Submit a guest blog/article. We want to share what living and working in Fairmont is like from people who are doing it. Share an article on what running a small business is like, an experience volunteering for a non-profit, an itinerary of your perfect Fairmont weekend. Share your Fairmont experience.
• Add Fairmont Area Life as a co-host on your Facebook event! This will add your event to our community Facebook event calendar.
• Spread the word! Share our posts. Engage with our posts. Help spread the positivity in Fairmont.