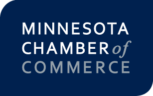 The following summary provided courtesy of Minnesota Chamber of Commerce.
For more information, visit the Grow Minnesota! website.
---
"Grow Minnesota! was founded by the Minnesota Chamber in 2003 and is the premier private-sector led statewide business retention, business assistance, and business expansion program in Minnesota. The program operates in partnership with close to 80 local chambers and economic development organizations year-round.
The primary focus of Grow Minnesota! is to retain and grow Minnesota's businesses. Grow Minnesota! provides a wealth of valuable resources that can be accessed by any and all Minnesota businesses, as well as by individuals interested in starting or relocating a business in Minnesota. Companies assisted by Grow Minnesota! represent small to large businesses located throughout the metropolitan and rural areas of the state.
Grow Minnesota!'s comprehensive business assistance resources include confidential one-on-one visits with businesses to identify their specific business expansion plans, workforce recruitment and development needs, exporting opportunities, and relevant business financing services. These financial services include discovering grants and loans that could result in a major capital investment in Minnesota.
Contact [their] professional staff to schedule a comprehensive Grow Minnesota! visit or to inquire about resources to help you grow your business in Minnesota."
---
Grow Minnesota! Quarterly Update