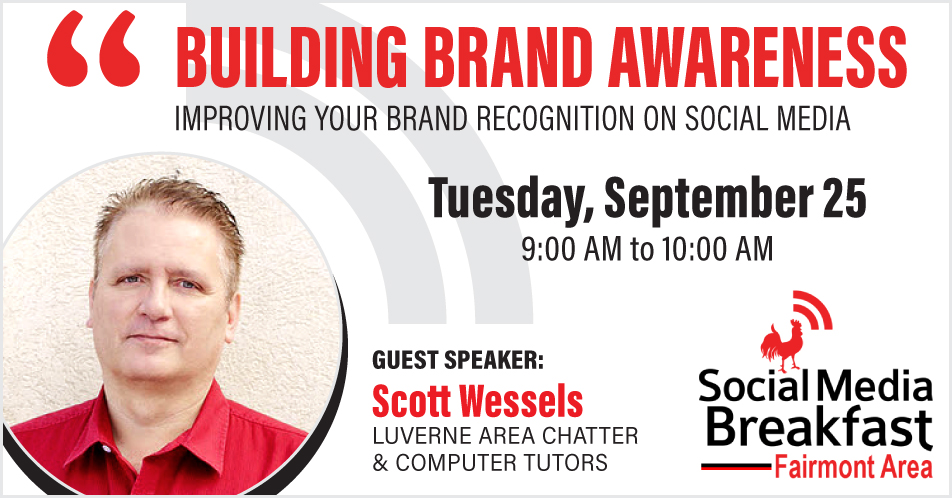 During this session (Donation Requested: $10), instructor Scott Wessels (Computer Tutors & Luverne Area Chatter) will lead a presentation titled "Building Brand Awareness" covering best practices and tips on how you can improve your brand recognition using social media. The session will take place on September 25 from 9 to 10 am at Southern Minnesota Educational Campus in Fairmont.
---
---
Scott began his own computer retail and repair shop in Luverne 15 years ago. In order to adapt to the changing landscape of technology and retail, he began an online newspaper, Luverne Area Chatter, as an informational source for entertainment, businesses, and news in Southwest Minnesota through Facebook. In a short time, what began as a way to promote businesses and ideas and to spur retail growth and tourism for Luverne (and thus helping his OWN business), soon exploded into something with a life all its own. Events like this spring's mid-April snowstorm, for example, yielded an average 75,000 unique visitors per day for Luverne Area Chatter. Through the coordination of the Chatter along with the Facebook pages of local businesses, the community has been able to boost their image, their impact, and just as importantly, their bottom lines.
Find out how you can learn from Scott's success at this month's Social Media Breakfast – Fairmont Area!