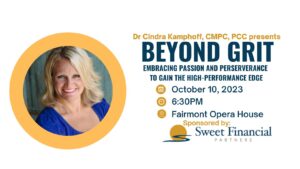 This event is FREE to the public no RSVP required!
Doors at the Fairmont Opera House will open at 5:30 p.m. Gather in the footlight lounge before you find your seat in the auditorium to hear Cindra starting at 6:30 p.m. The lounge will be open for 1 hour after. Free will donations will be accepted or bring a toy to support the newly formed and LOCAL Martin County "Toys for Tots". Toys and books must be new and unwrapped. Checks may be written out to Martin County Toys for Tots.
Cindra Kamphoff, Ph.D., CMPC, PCC, is an award-winning keynote speaker and certified professional coach for leaders, professional athletes, and championship teams. She is the author of an Amazon bestseller, Beyond Grit: Ten Powerful Practices to Gain the High Performance Edge and a recent second book, Beyond Grit for Business: How to Boost Performance, Leadership and the Bottomline. Her podcast, The High Performance Mindset podcast, has over 3 million downloads and is ranked in the top 100 podcasts where she interviews thought leaders about mindset.
This keynote will help you embrace passion and purpose in our life and work. Based on almost twenty years of research and consulting with the world's best, Dr. Kamphoff will share the 10 practices of high performance to help you combat burnout and stress. You'll become more self-aware and learn how to master your thoughts and emotions to help you lead yourself, your family, and your team more effectively. Expect a high-energy, inspiring keynote where you will gain strategies to help you live and work more fully.
Objectives of the Keynote:
• Specific strategies you can use to be at your best
• Practical tools and strategies to deal with adversity, mistakes
and the unexpected
• Learn and apply how to increase energy in your life and work
• Learn strategies to decrease stress and burnout, and apply
them in your life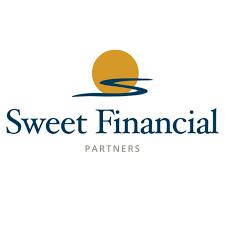 This presentation is sponsored by Sweet Financial Partners.