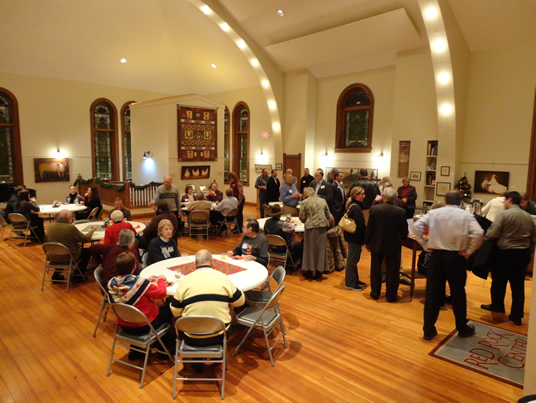 Connect with success at the Fairmont Area Chamber of Commerce, your link to the people, programs and resources you need to grow your business.  Members benefit from the Chamber's pro-business advocacy, business and professional development programs, and high visibility events throughout the year.
---
Benefits
Membership with the Chamber provides the following benefits to your business and all its employees:
Member-To-Member Benefit Program
How Does the Member Advantage Promote My Business?
As a Member business, you have the potential to earn more customers by participating in the Member-To-Member Benefit Program. Businesses are asked to offer an exclusive discount to fellow members and their employees! Offers are promoted on our website and on our weekly E-Newsletter. The effects of this program are far reaching and not only will help your business grow but add significant value to your Chamber membership. Contact us at 507-235-5547 or email

[email protected]

if you would like to offer a discount.
What if I'm an Employee of A Member Company?
As a Chamber member or employee of a member business, you can present your Member-To-Member Discount Card at any participating businesses and receive the exclusive special offer! FREE Member-To-Member Discount Cards are available for all of employees of Chamber member business – just ask your employer. The Member-To-Member Benefit Program is great perk for employees and a great way to keep business ongoing between member businesses. And the savings can be substantial too!
Constant Contact
As a Chamber member, you can get some of the biggest discounts on Constant Contact's Email Marketing to help you stay in touch with your customers.
Get 20% off for six months when you pre-pay
Get 25% off for a year when you pre-pay —it's like getting three months FREE
Plus, you get our unlimited, award-winning FREE support and personal coaching to help you do it right every step of the way!
Over 350,000 small businesses and organizations trust Constant Contact to help them get more. You can too!
Get more loyalty and business from your customers. Get more from your marketing budget and efforts. There's never been a better time to get more successful—by using Constant Contact.
Click here to sign up for Constant Contact.
The Chamber frequently receives calls for referrals to local business products and services. We refer these people exclusively to Chamber members. Hundreds of residents and visitors visit the Chamber office each year. Members are encouraged to use the office as a way of distributing flyers, business cards or brochures about their business or service.
Online Membership Listing
Each chamber member receives a free listing on the Chamber website. Business logo, Google map location, website and other opportunities are also available for a $25 annual fee.
Chamber Events & Programs
Chamber Members have access to Chamber seminars and workshops to improve your skills, promotional activities, and services; some at reduced rates.
Business Mailing Labels and Lists
The Chamber mailing labels and lists are available for purchase by members only. The basic (members only) mailing labels and lists include 280 Chamber member companies. The expanded (members and non-members) mailing labels and lists include our basic membership. Labels and lists include only the area's top business executives, government and community leaders.
Engagement Opportunities
Relationship marketing is one of the key ways to generate and sustain business. The Chamber offers both structured and casual networking events to encourage members to meet, build relationships, and do business with one another.
AM Espresso is a structured program at which participants are guaranteed to meet at least two tables full of potential new business clients. Tables are randomly assigned and guests rotate tables halfway through the program.
Evening networking events, known as PM Exchanges provide a more casual atmosphere for members to get to know one another. These events are held at local venues from 5:00 p.m. – 7:00 p.m.
Display Your Business Cards At The Chamber
The Fairmont Area Chamber of Commerce is offering all Chamber Members the opportunity to display their businesses cards at our office. This is a great opportunity to get publicity from Chamber visitors. If you or your employees have a business card that you would like to display please drop them off at the Chamber office.
Fairmont Welcome Baskets
For any Chamber Member that is hiring a new top position in their company we will do a Welcome Basket and have it delivered to the hotel. Items included in these baskets include: Meats, Cheese, Crackers, Area Brochures, a welcome card and a few other things. It is just a great way that the Chamber can help make your potential employee enjoy their time in Fairmont. Contact us for more information.
Bad Check Alerts
Chamber Members can receive our Bad Check Alerts that we receive from area banks. This is a great way that we help businesses stay aware.
Online Member News Section
The Chamber is offering complimentary announcements for our Members. These announcements are only for noncommercial events such as open houses, fundraisers, special events, seminars, etc. The information must be in a format acceptable to the Chamber or applicable fees may apply. Email

[email protected]

if you would like your event highlighted.