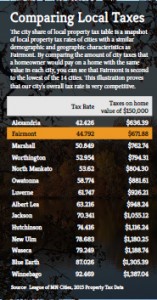 FAIRMONT, MINNESOTA features a shovel-ready certified industrial park which is accessible by plane, rail, and interstate travel. Home to five lakes and over 880 businesses, Fairmont is not only business-friendly but family-friendly, with over 500 acres of parkland – featuring an aquatic park, dog park, two 18-hole golf courses and much more. Contact Fairmont Economic Development Coordinator, Linsey Preuss HERE
Fairmont is a great place to raise a family and grow a business.
Fairmont Economic Development
Powered by a mix of agricultural and industrial businesses, Fairmont has become one of the state's leading agricultural communities. It has a significant industrial manufacturing base and a healthy combination of national and homegrown companies are among the more than 500 businesses operating in the city. Fairmont's community and economic development efforts drive Fairmont to be one of southern Minnesota's best cities for access to transportation, land availability, workforce and quality of life. Recognized as one of the top micropolitan areas in the nation for new and expanding companies, Fairmont is a growing regional hub located in southern Minnesota.
Key Industry & Major Employers
Fairmont, Martin County is the proud home of two Fortune 500 companies, 3M and CHS, who headquarter in Minnesota. With numerous building and site opportunities available, you can make yours the next! Our major industry is ag business, and for good reason! We are the largest producer in Minnesota for both hogs and corn, and in the state's top 10 for soybeans and cattle.
We know agriculture. Avery Weigh-Tronix, CHS, Green Plains Renewable Energy, Advanced Drainage Systems, Kahler Automation, Fairmont Vet Clinic, Devenish Nutrition and many other agricultural-based businesses understand our strengths and have decided to locate here as a result. You could be next!
Fairmont has a significant industrial manufacturing base. Our manufacturing companies have experienced long-term stability with employment numbers
remaining stable.
CLICK HERE to visit the City of Fairmont Economic Development webpage.