By: Margaret Dillard – Chamber President
---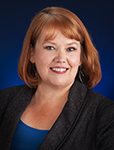 America is in the early stages of a workforce shortage. US Department of Labor reports show Martin County's Unemployment at 2.6 percent falling .7 over the last year. MinnesotaWorks.net consistently features more than 215 job opportunities within 25 miles of Fairmont. Local employers have answered the challenge by raising entry level wages or rewarding employee work ethic. There are local careers to support those who choose to move here.
When asked, many metropolitans would rather live where there is less traffic and more open spaces. Combine those features with recreational options, museums, theater and outlets for the arts and we are able to serve up quality of life that people will come to live, work and play.
By now, you may already be thinking of a few people who you believe would love to be your neighbors. For a couple of years now, a group has come together to create Fairmont Area Life, a branded effort to attract people to relocate to Martin County.  I encourage you to view the video testimonials of a few who have recently moved here. They're located at www.FairmontAreaLife.com, click on the "Experience" tab.
It takes effort from all of us to help our communities thrive. I hope you have pen and paper in hand and have jotted down a few names and addresses of those you would encourage to call Martin County home.  We would like to send them a personal invitation to consider relocating to the area. Please send me their contact information. If you would like to let them know that you initiated this invite, we'll include that in the message.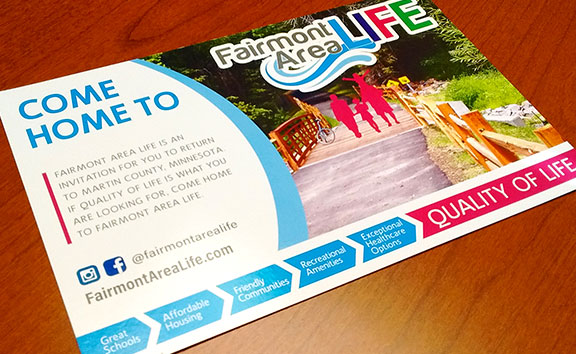 ABOVE: Postcards are ready to invite your family, friends and all former residents to "Come home to Fairmont Area Life"
---
If you would like to participate in this community project to invite others to join our community, send their names and addresses to Fairmont Chamber, PO Box 826, Fairmont, MN 56031. To send via email, use this address: margaret@fairmontchamber.org or feel free to stop by the chamber office at 323 East Blue Earth Avenue in Fairmont. Also, if you know of someone who recently moved to the area, we'd like to hear their story. Have them contact us or let us know how we can contact them.